The Leadr Brand Story: Empowering People Development
6 min read
Jun 8, 2021 11:47:20 AM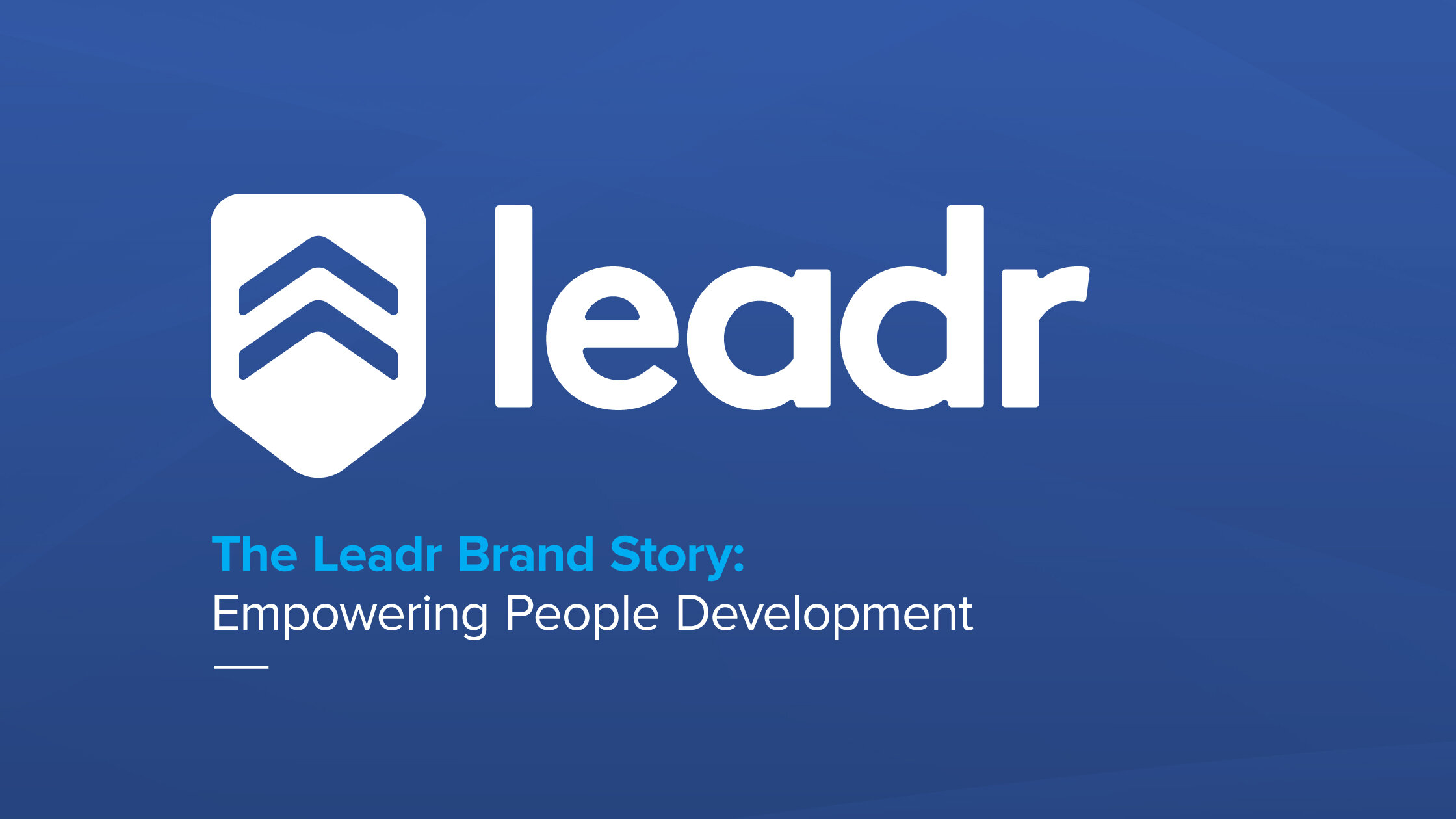 The Leadr Brand Story: Empowering People Development
An old preacher once said, "If there's mist in the pulpit, there's fog in the pews."
The message we have been sending out has created an unintentional fog for the people that need us. Some of what we were hearing:
"I thought you were a consulting company."

"Do you have anything to do with the military?"

"The brand looks corporate and cold."

"The logo is too sharp and looks overly masculine."
The last thing we want to be is confusing. We've been hard at work to make some "refreshing" changes. We want our brand "refresh" and related messaging to be clear, complimentary, inspiring, and inviting. So we shook things up a bit in brand land and want to share what we have found along the way.
Why Leadr 2.0?
Because brand is all about relationship.
We've been thinking a lot about relationships lately: ours and yours.
Who are OUR relationships with?
They run the gamut: our customers, our employees, our competitors, and our investors. These relationships are essential.
Who are YOUR relationships with?
They also run the gamut: from entry-level internships to the executive leadership team and everyone in between, including the people you serve. These relationships are crucial, and how they interact is mission-critical.
Relationships in the typical workplace are broken. Organizations often view Human Resources and Leadership Development as two separate entities. THIS is the crux of the problem.
HR doesn't own Leadership Development, and Leadership Development doesn't own HR. When everyone wants to keep things separate, employees in our organizations can get whiplash going back and forth between the two.
We don't have to run our organizations like this anymore. In fact, we do our organizations a disservice to continue to operate like this.
Our brand refresh is motivated by a refresh in the clarity of our calling: People want to be developed and led, not managed.
How does this brand refresh help us get from here to there?
Our mission has always been clear: to develop 1M leaders.
We are refreshing our brand around our mission and what we believe. It's not just about having a prettier face.
In a world where millennials are quickly becoming leaders, brands like ours need up-to-date logos and branding. Our refresh reflects our belief in next-generation leadership - an emphasis on intentionality - not intimidation.
We want our message of confidence without intimidation heard loud and clear by all generations. It also pinpoints a modern visionary tech company changing the workplace one leader at a time with a new refreshed look.
We are not a people management software company that can also do leadership development.
Leadr was started to help managers and team members develop, grow, and lead together. Leadership is our core competency - it's what we do best. Leadr helps you engage your team by focusing on each person's individual needs while simultaneously driving engagement across the spectrum.
What we believe about leadership shapes our approach.
Organizations rise and fall on relationships. So the old model of leadership as a top-down approach no longer works. It's not about status or power; it's about having the confidence to engage with people on a human level - from employees at all levels of an enterprise up through executive leadership teams in the boardroom.
We become better leaders by turning our attention away from top-down notions that dictate who should do what work. Success comes when the focus is on a two-way street where managers serve as coaches for their staff while also having ears open for employee ideas and feedback.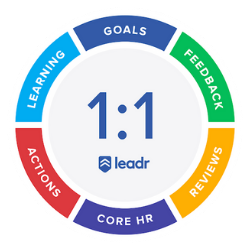 Leaders and employees are interdependent; success or failure lies in how they interact with each other. We believe the 1:1 meeting is the most powerful tool available to managers for leadership development.
Organizations should engage and grow every employee on the team.
When this happens well, leaders love Mondays as much as Fridays.
(and btw, so will employees)
It is in this place where leaders earn their stripes.
Our brand will tell the story of how leaders earn their stripes.
The inspiration for the chevron in our logo is a Corporal, described as "the worst rank in the military."
Why then would we choose a Corporal? Military leadership often begins with the position of Corporal. There is a lot of need for hard work and little room for play. They are expected to do everything from paperwork no one else wants, training team members, and making decisions on behalf of others. As a result, commanders have chosen them as dependable figures that can be trusted with more responsibility than your average soldier.
The Corporal sits in a unique place of earning their stripes by balancing between serving both the upline and downline.
While we embrace this emblem of leadership from the rank of Corporal, we also want to push back against this militaristic idea of rank-and-file command within an organization.
We want to make sure that when people see Leadr, they know what we stand for. The new logo reflects a commitment to this goal. It pays tribute to those who work together to be growing people who are developing an organization. Through intentional collaboration, great things happen - and it's also what makes us want to come back day after day!
We have always been a shield brand, but when we refreshed our logo, it became more like a leadership badge, changing perspective from defense to opportunity. The chevron is still there, but the stripes point up to represent growth and movement.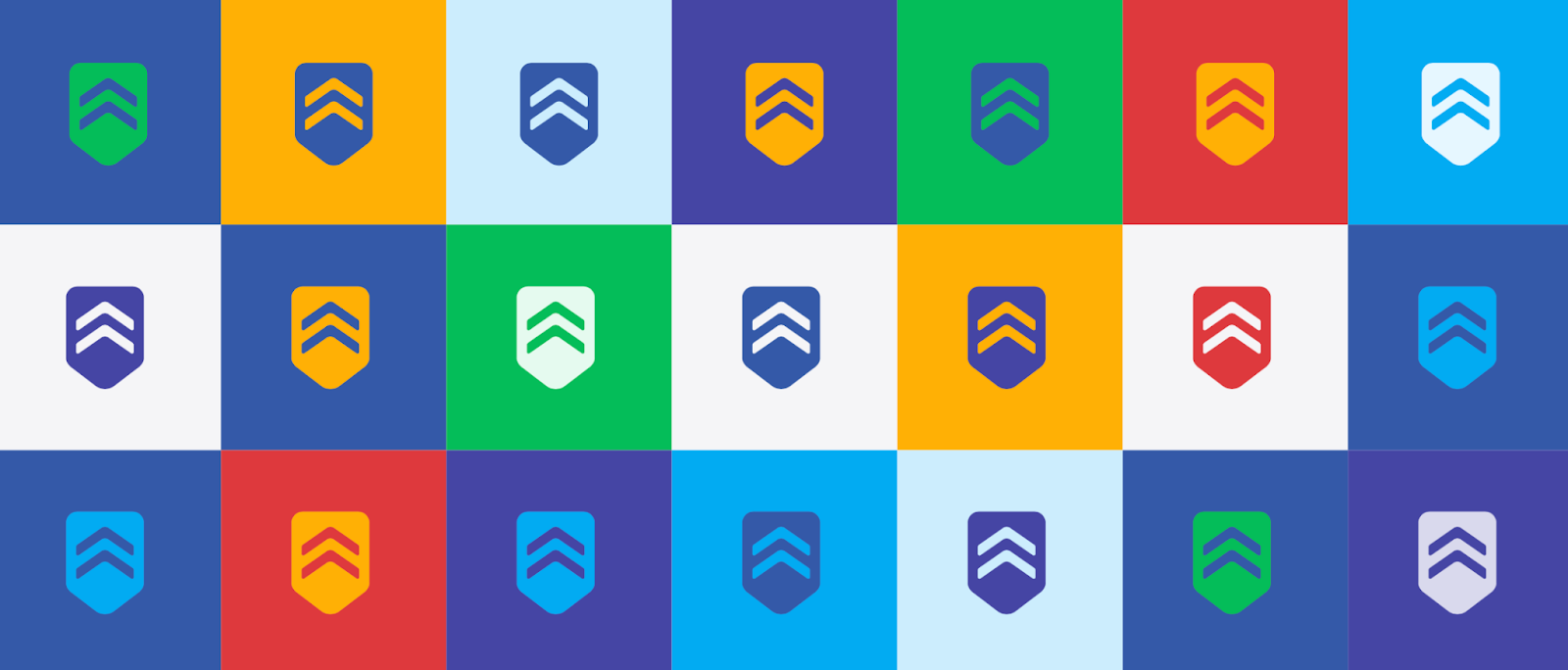 The name LEADR often felt like we were SHOUTING our name. So we've dropped the ALL CAPS to state we are in a position of developing people from a place of service: leadr.
Organizations flourish/soar with Leadr.
We liked our old brand and we believe it has served us well. But believe it or not, something as simple as a logo and the colors that surround it can tell a story. As we grow, our stories become more defined and gain a certain maturity.
In our short existence, we have seen firsthand how Leadr is helping teams across the globe to unleash their potential. That potential spans the colors of the rainbow and is only limited by the imagination and execution of the team.
So we decided to update our colors: from a single blue to an ensemble that celebrates multiple shades of blue and incorporates more vivid tones like purple, yellow, green, and red. As a result, our new color palette is more vibrant and alive, with a brighter contrast between colors.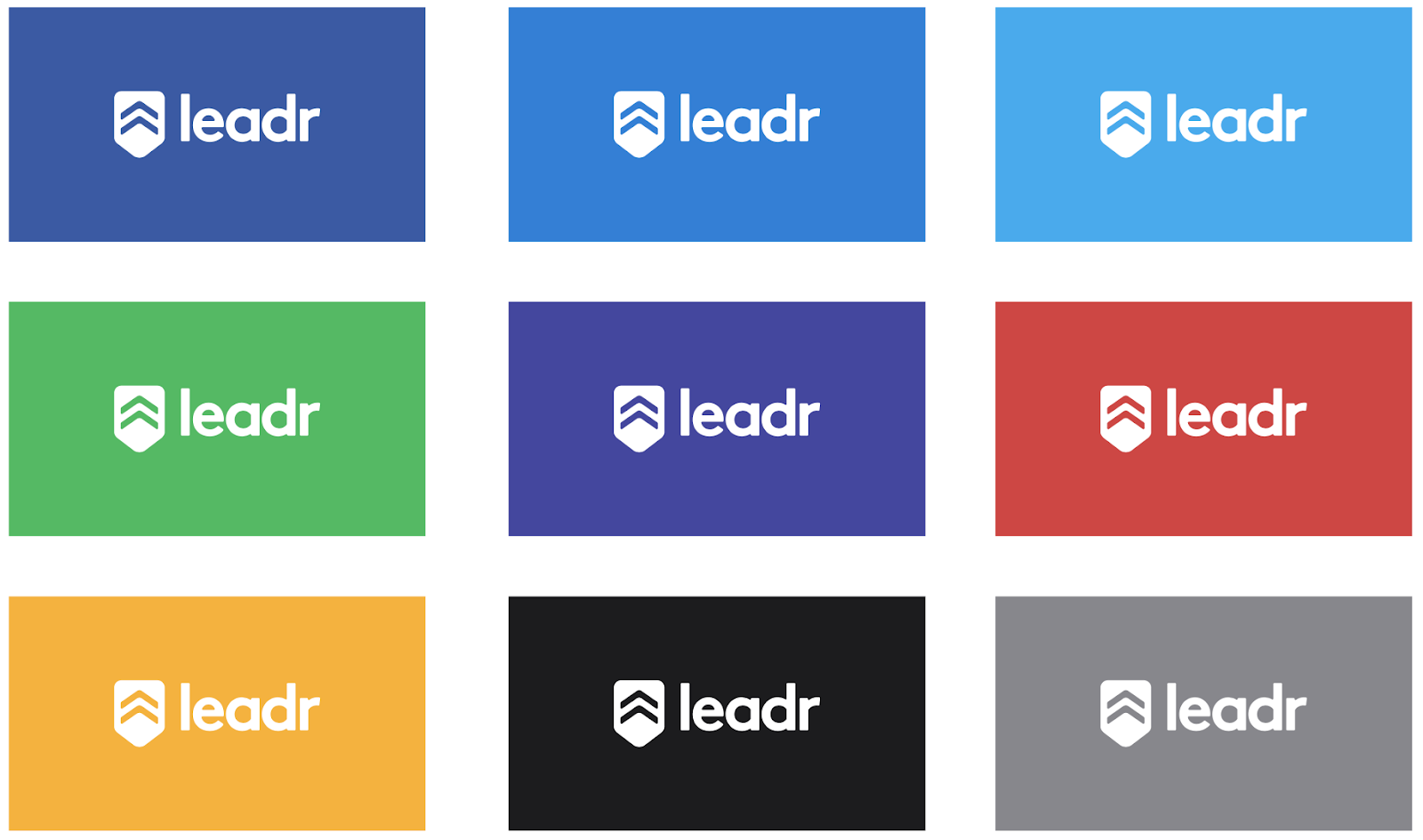 So what's next?
Leadr is a people development software that helps you engage and grow your team, the like of which has not existed before. Most HR software focuses only on people management, but Leadr is different.
We are creating an entirely new category in the HR world: one focused on leading, developing, and retaining employees.
We know that every organization has a mission to execute and must focus on achieving it well – but there's a tension between accomplishing the mission and caring for our people.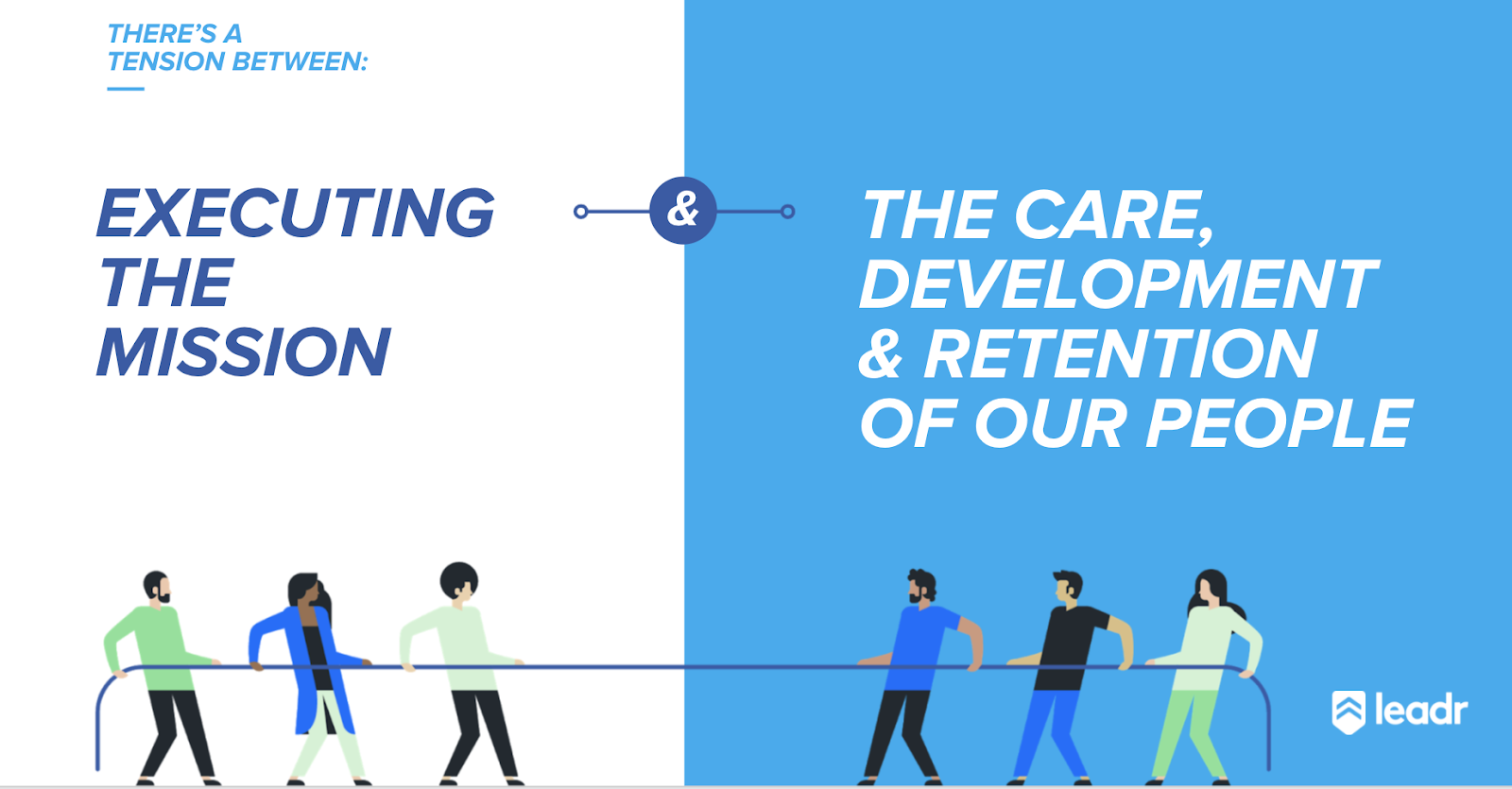 When we invest in our people, they perform better at work, which means they can contribute more to achieving our goals as an organization while being happy with their careers at the same time.
We hope you love our brand refresh and join us on our mission to develop 1M leaders. Let's go!
No Comments Yet
Let us know what you think